Mastery Chains Disc Golf Course
Best Course in Vermont!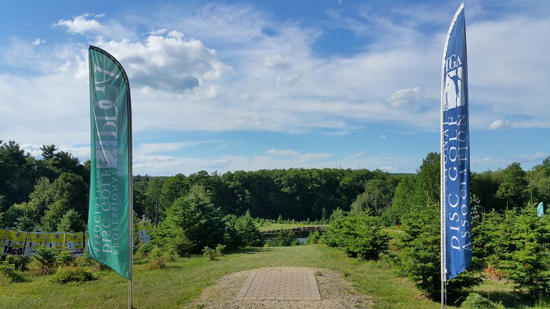 This course has a par of 60. It has 35 acres of beautiful open fields and partially wooded terrain. Not to worry if you are just starting out at this sport, or if you'd call yourself a "pro", becasue we have tees that varry in difficulty. We have two sets of tees. There are the Red tees that are shorter, for the beginners of the sport or the kids. We also have the gold tees for the more advanced players to challenge them. We are most famous for our long par five that measures in at 1,250 feet from the gold tees. It is a hole that really stretches out your arm makes you strive to throw farther.
Disc Golf is a sport that can be enjoyed by all ages. It doesn't matter if you are 3 years old or 100 years old! It's a great subset for exercise, and being able to enjoy the outdoors. Typically there are 18 holes in Disc Golf, just like regular ball golf. The objective of the sport is to throw a disc into a basket that is a certain distance away. Unlike Golf, Disc Golf is measured in feet instead of yards, but unless you are in europe it's measured in meters. Based on how far the basket is away from the tee, and difficulty of hole layout makes up what the par would be for a hole. A par for a hole is always in between three and five. You would never see a hole that is more than a par five, or less than a par three. We encourage you to come down to our course and play! It's always a fun time! You won't regret it!
Rates:
Kids: 12 and under play for free!
One Round: $6.00 Day Pass: $10.00
One Year Membership: $100.00
Hours:
Weekdays: 9am to 6pm
Weekends: Dawn to Dusk